Official The Silence Of The Lambs Parody – #SexoFilm
Official The Silence Of The Lambs Parody Porn Movie
Kagney Linn Karter delivers a breakout performance as Clarice Starling, the junior FBI agent sent to pick Hannibal Lecter's brain for information on serial killer Buffalo Bill's whereabouts, and deliver him a horny young fan in exchange, as long as he vows not to eat her! Meanwhile Buffalo Bill is busty Brenda who turns out to be so masochistic that she loves every kinky minute of it. Will Agent Crawford ever get in Clarice's pants? Or will she stay a die-hard lesbian? Orona's captured the dark sinister cinematic nature of the original with a perverted twist around every corner. A must-see parody!
Starring: Kagney Linn Karter, Tanya Tate, Riley Evans, Isis Taylor
Director: Gary Orona
Studio: Zero Tolerance Ent.
Genres: Adult | Parodies, Horror
Length: 2 hrs. 1 mins.
Release Date: Feb 15 2011
Official The Silence Of The Lambs Parody XXX Movie Scenes
Scene 1 – Stars: Isis Taylor Kagney Linn Karter
Keywords: Big Tits, Double Dong, Lesbian, Cunnilingus, Dildo Play, Black Hair, Nipple Biting, Big Ass, Kissing, Brunette, Fingering
Scene 2 – Stars: Aleksa Nicole
Keywords: Big Tits, Cowgirl, Cunnilingus, Anal, Standing Doggie, Blowjob, Big Ass, Brunette, Fingering
Pop Shot: Mouth
Scene 3 – Stars: Tanya Tate
Keywords: Blonde, Big Tits, Deep Throat, Doggie Style, Nipple Biting, Blowjob, Big Ass, Kissing, Reverse Cowgirl, Cunnilingus, Garters, Stockings
Pop Shot: Mouth
Scene 4 – Stars: Riley Evans
Keywords: Missionary, Blonde, Big Dick, Big Tits, Dildo Play, Doggie Style, Toys, Blowjob, Rimming, Big Ass, Fingering, Anal, Cunnilingus
Pop Shot: Mouth
Scene 5 – Stars: Kagney Linn Karter
Keywords: Missionary, Big Tits, Butt Plug, Cowgirl, Deep Throat, Cunnilingus, Blowjob, Big Ass, Brunette
Pop Shot: Mouth
Extras: The only substantive extra was the 9:49 minute Behind the Scenes feature, much of it devoted to additional sexual exploits. There was also a set of trailers, a photogallery, and a compilation of popshots from the movie.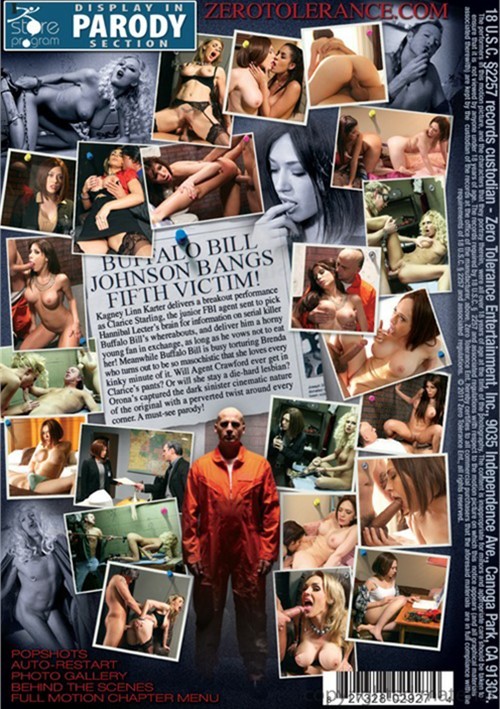 Summary: Official The Silence of the Lambs Parody by director Gary Orona for Zero Tolerance might not be the director's best parody effort ever but it was worth picking up just to goof on Ben and Mark for their weirdly creepy takes on their mainstream counterparts roles. The sex was best considered fitting for a feature flick than for stroking duties and the quality of the acting was all over the map, some added humor livening things up considerably for the folks I watched the movie with.

It was still pretty entertaining for both the feature and sexual elements though, at least enough to merit a rating of Recommended, it just seemed more rushed than the last two of Orona's movies I watched. In short, this Official The Silence of the Lambs Parody may not top the recent Top Guns or out super Superman XXX but it was fun to watch and strokable enough to start you off, helped along by the inclusion of Riley Evans, Kagney Linn Karter, and Tanya Tate, to name a few.
Babes 18+ Every day with new experiences.
Porn Studio's most glamorous and beautiful erotic xxx videos, classic porn movies, adult-dvd, porn parody movies, various celebrities leak sex tape and with many adult contain. Very attractive erotic girls and guys who love hot shoots exclusively and only with first-class models porn videos.
Zero Tolerance Ent. Presents Official The Silence Of The Lambs Parody – #SexoFilm